The model LP 42 (Leuchtpistole 42)
The war continues and as in all other sectors of manufacturing, optimization of raw materials and lack became one of the main concerns of firms

In parallel, the 'costs', time and number of manufacturing steps were awarded to a magnifying glass.

From these constraints, the model was born 42 or LP 42 (for Leuchtpistole 42) with the bulk of the production based on the principle of stamping metal recovery suffering 'in fine' surface treatment of galvanization. So is there a grey colour, which may turn to older tone green.
The carcass of the gun is composed of two half-shells welded.
The single-action mechanism is reduced to just parts assemblies.

There remains a degree of robustness of these pistols.
Of this optimization of manufacturing, it does almost any machining operation - including surface -.

Grips are produced from a mixture of Bakelite and sawdust.

This flare guns made of steel weighs in 1120 kg and measure 220 mm with a gun around 155 mm as the 'Heer'.
It should be noted that the launch of production of the LP 42 does not model Heer who continued in parallel.

The main characteristics and manufacturers of this model are:

Caliber: 4 (26,65 mm)
Weight: 1.120 kg
Total length: 220 mm
Barrel length: 155 mm
Metal / alloy: steel (recovery)


| | | | |
| --- | --- | --- | --- |
| Manufacturer | Code | Estimated production | Remark(s) |
| Waffenfabrik Hugo Schneider AG, Leipzig | wa | | |
| Metallwarenfabrik C.u. W. Meinel-Scholer, Kligenthal/Sachsen | euh | | |
| ?? | qyn | | No documentation concerning this manufacturer (maybe be an end war code for 'euh') - See below for pictures |
| ?? | sww | | Idem |
| | | It seems that a total of 420.000 items - any manufacturer confused - has been produced during WWII. | |
| Waffenfabrik Moritz & Gerstenberger, Zella-Mehlis | em-ge | 200 | Precursor of the LP model 42 described here (see article by Wolfgang Kern in the Gazette des Armes No. 394. It appears to have been designed around the years 1933/35). |
Note 1:
There is sometimes LP 42 with a rifled barrel. It is then closer to the Kampfpistole (same fireworks and ammunition), but its production remains extremely discreet and very poorly understood and documented.

Note 2:
Warning, this type of LP was used after the war, the Middle East (especially through contracts with the Israeli army, it seems). An example is given below.


Detailled views

Although this model of flare gun LP 42 (LP Leuchtpistole) does not seem to present differences, there are a few: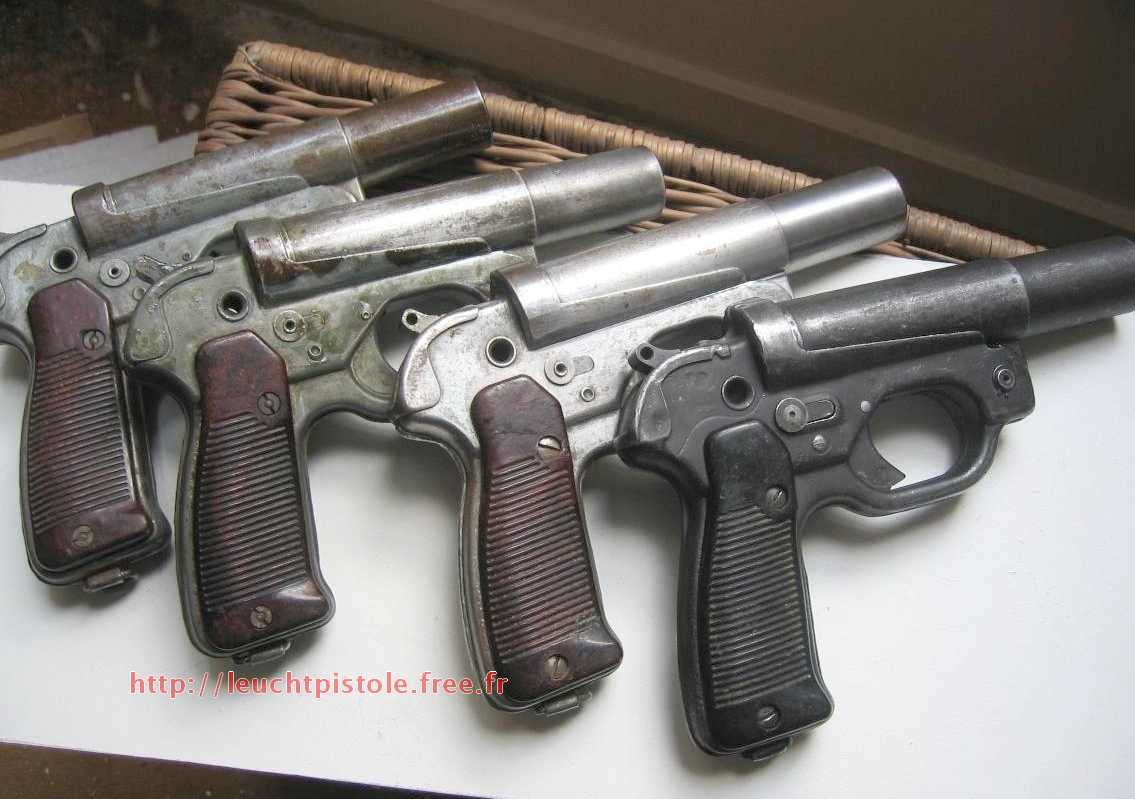 Despite their apparent similarity, a few key details out:

1: The manufacturer code: 'wa' (Hugo Schneider Lampenfabrik Leipzig) and 'euh' (with C-und W. Meinel Scholar Metallwarenfabrik of Klingenthal)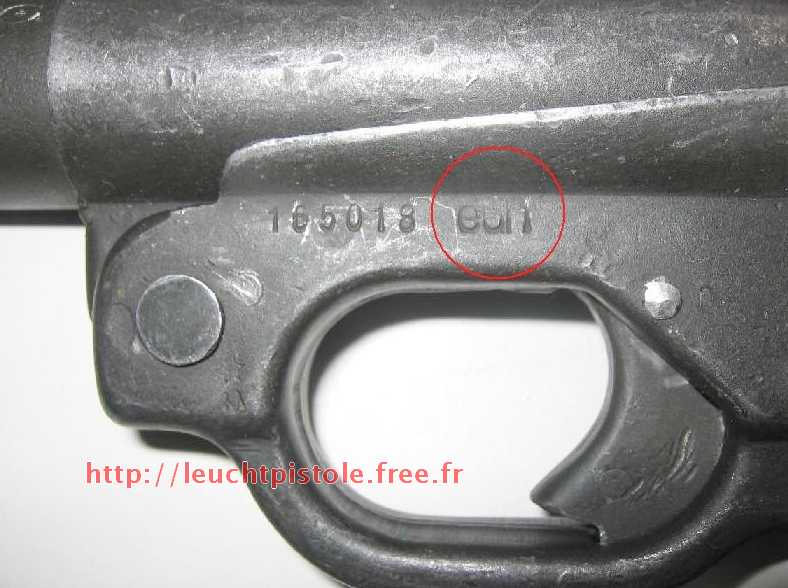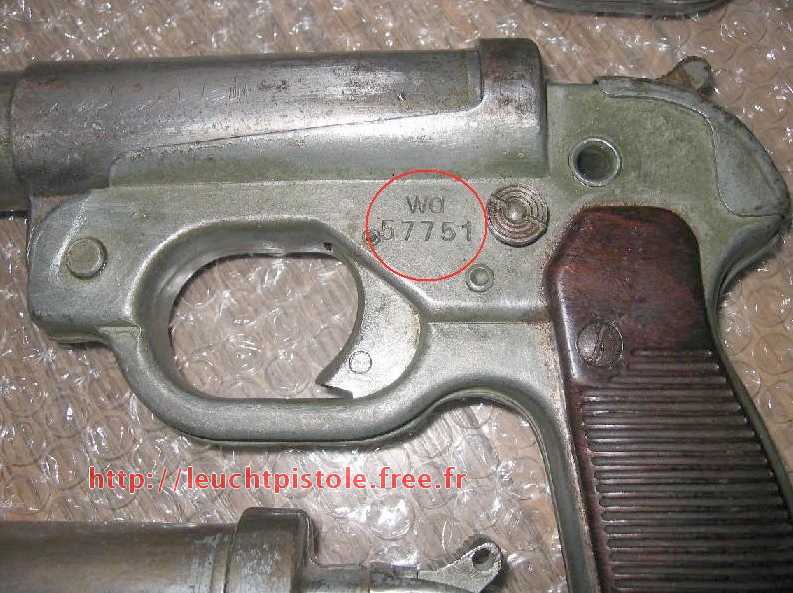 2: The type of manufacturing the hammer (a single block or is composed of 4 slices)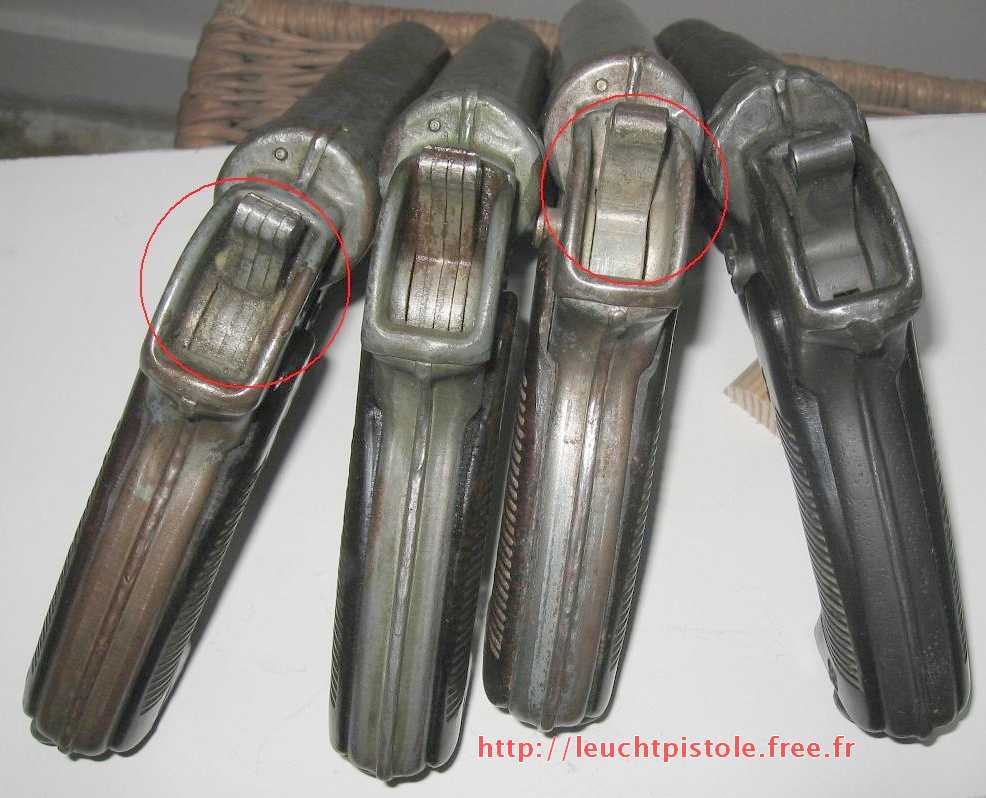 3: The finish (black finish or 'brilliant')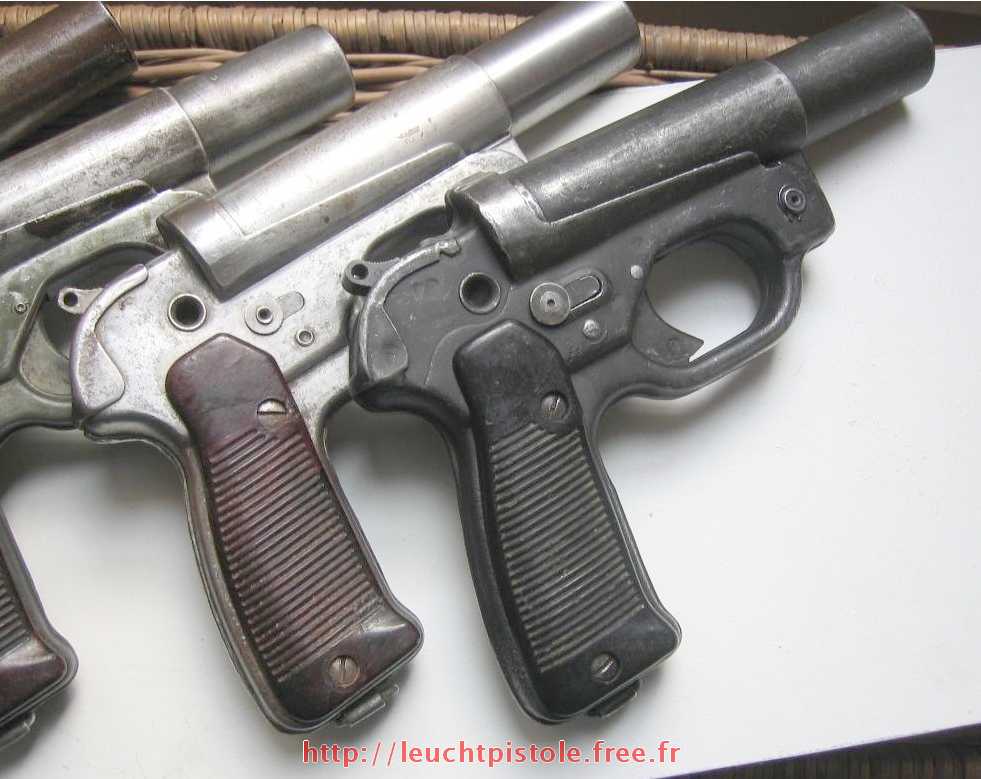 In this case, the model right, dark finish, shows a re-use after the war. This kind of play is, in general, easily recognizable thanks to the following details:

- As part of the re-assignment, these parts have undergone revision operation. Then we observe changes in pin or replace them with other types of fasteners (screws, pin different manufacturers, etc.)..

- Moreover, the gun is the subject of an additional marking on its upper part: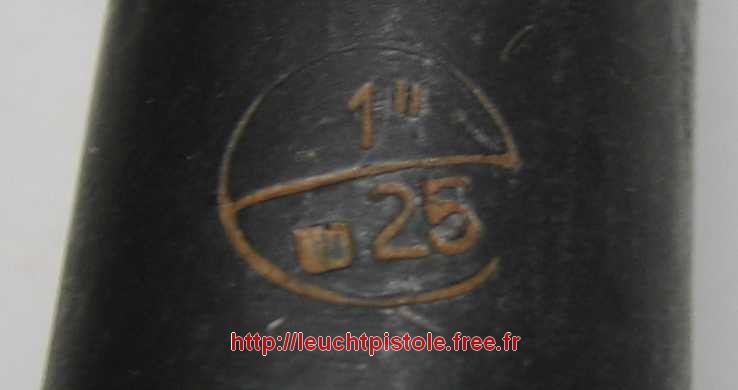 4: Grips bakelite black or brown, see picture above (actually, a mixture of sawdust and Bakelite)

Example of a flare gun LP 42 manufactured by euh (Metallwarenfabrik C.u. Meinel-Sholer) (by the way, thanks to the owner for the pictures)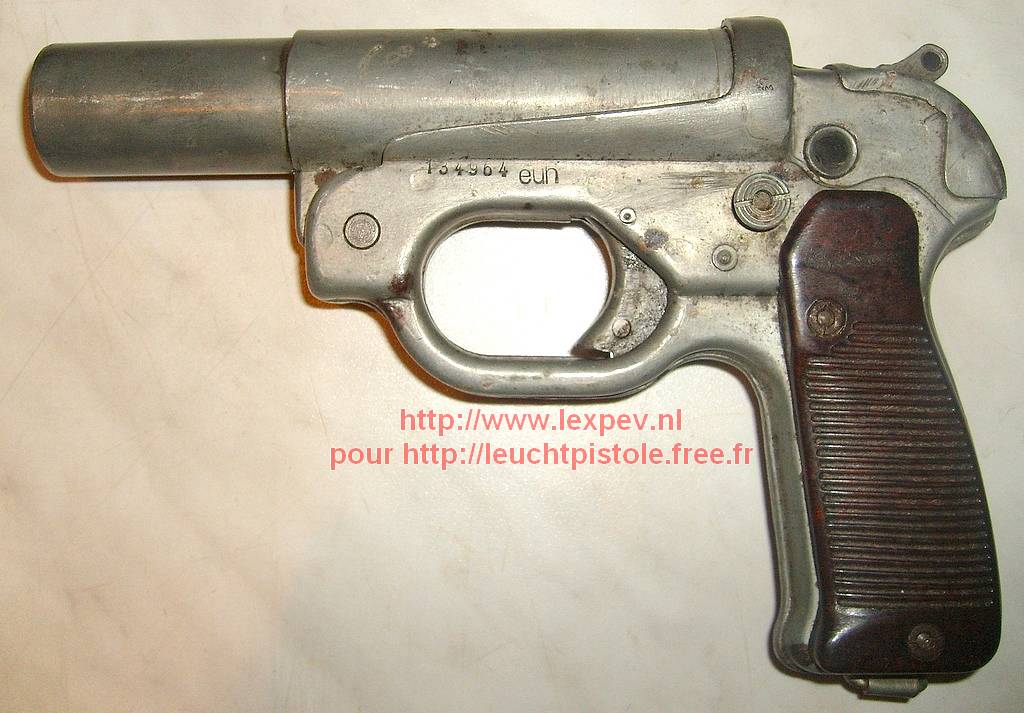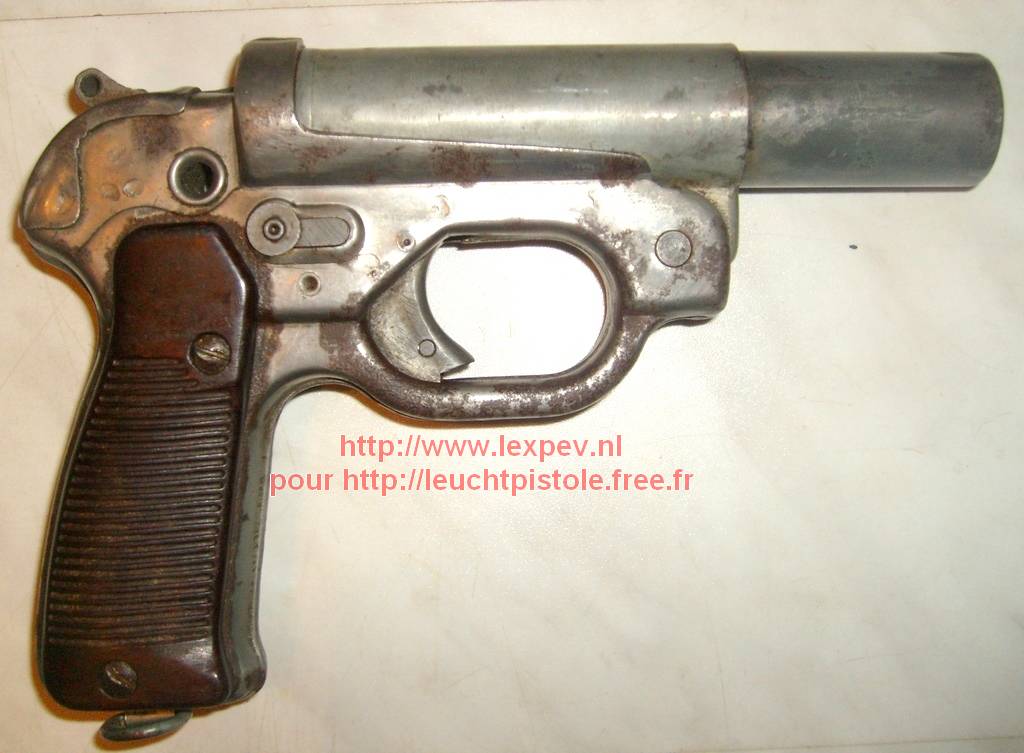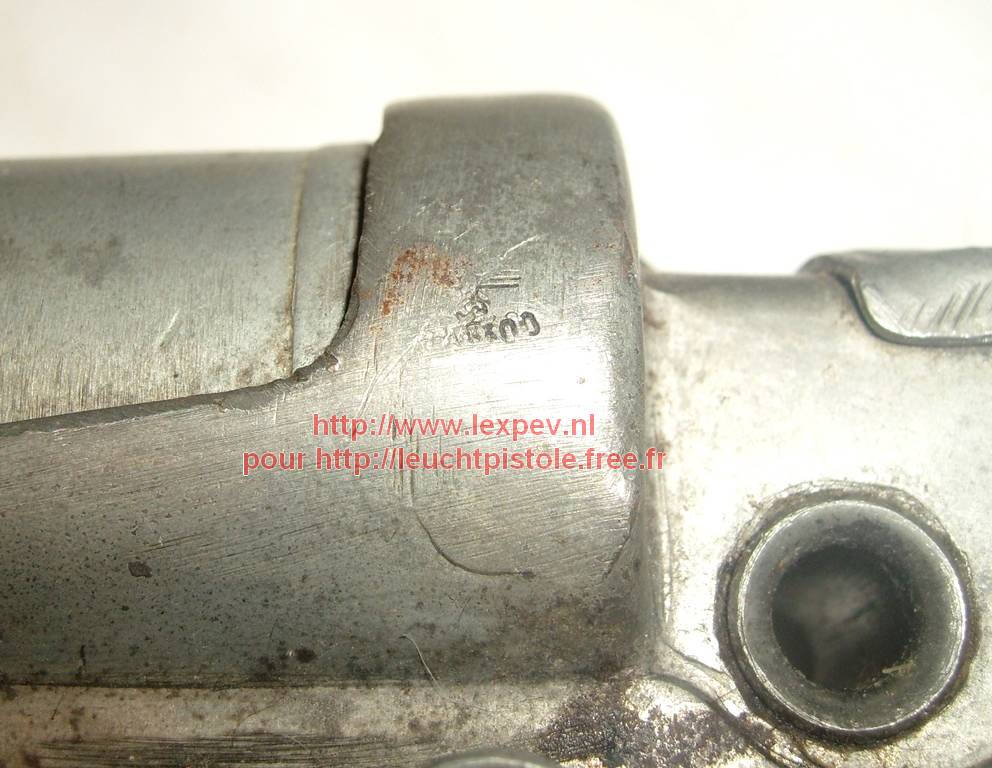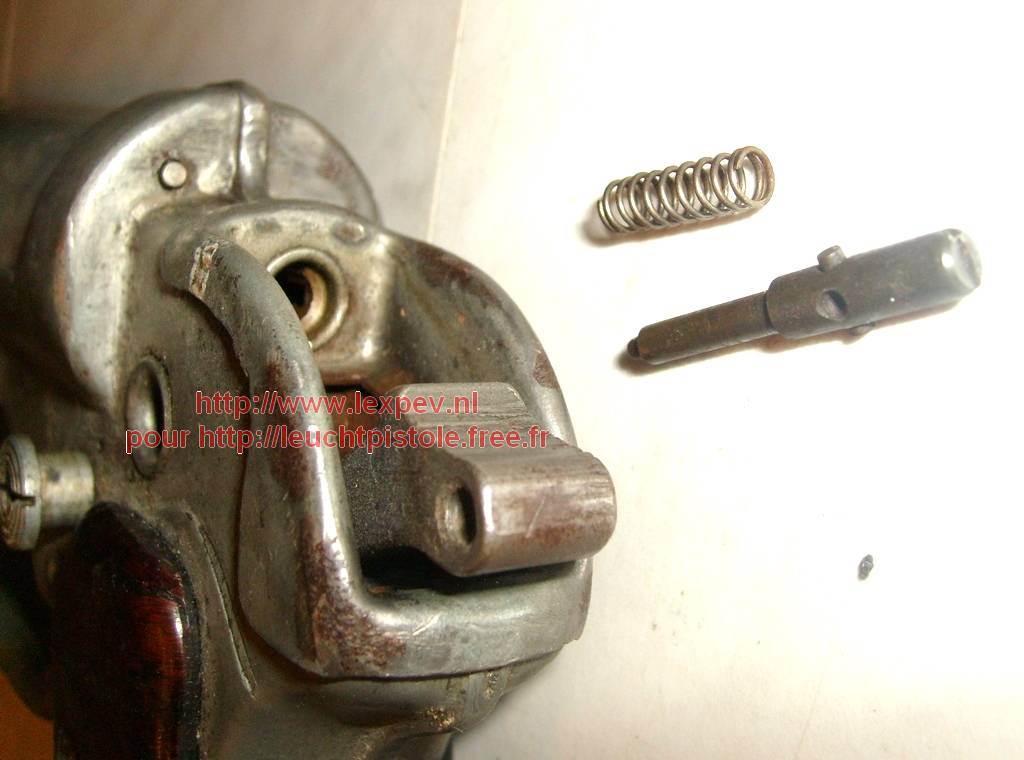 Sample of a LP 42 manufactured by the 'unknown' code 'qyn':
Nice and rare camouflaged LP 42 modek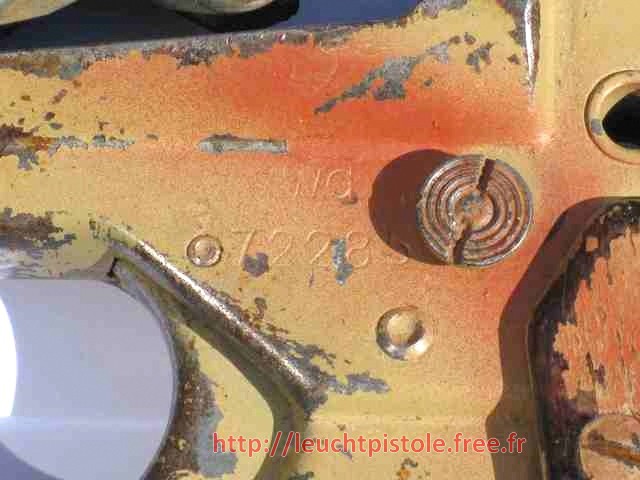 Rare web holster made for the LP 42 (manufacturer code 'cww'):

Other rare web holster made for the LP 42 (same manufacturer)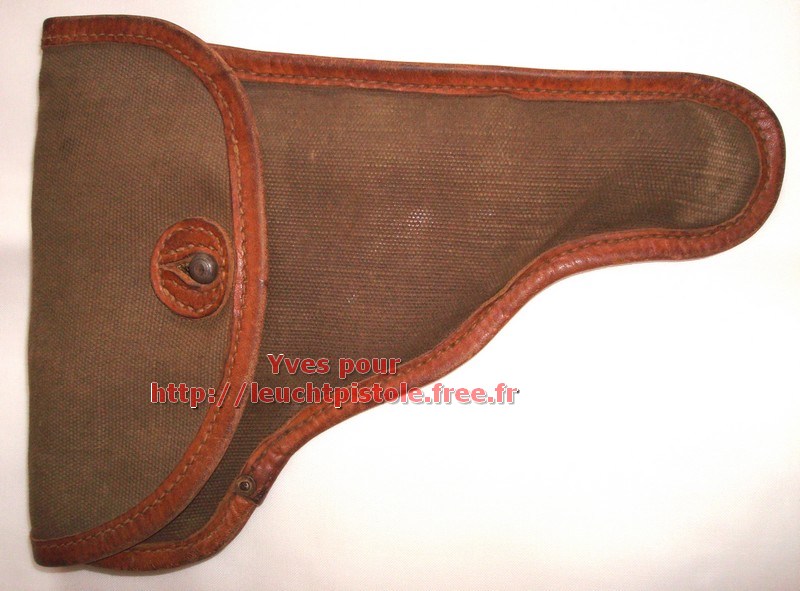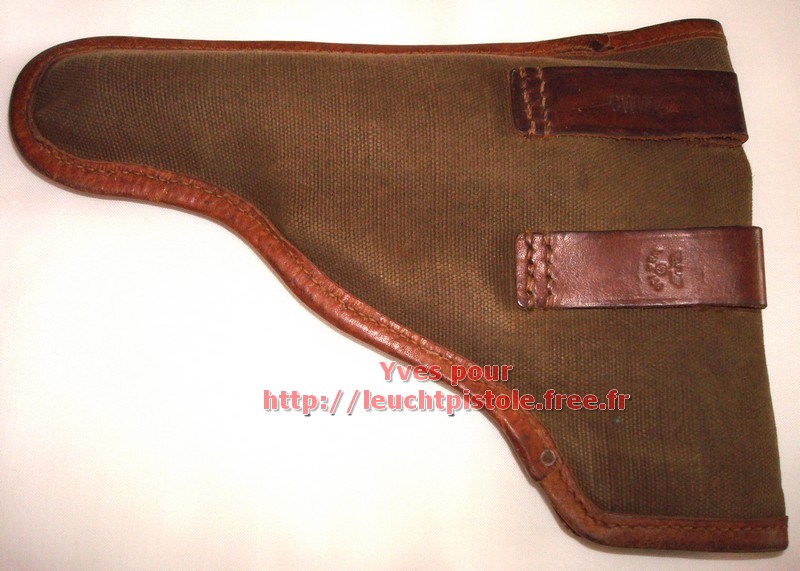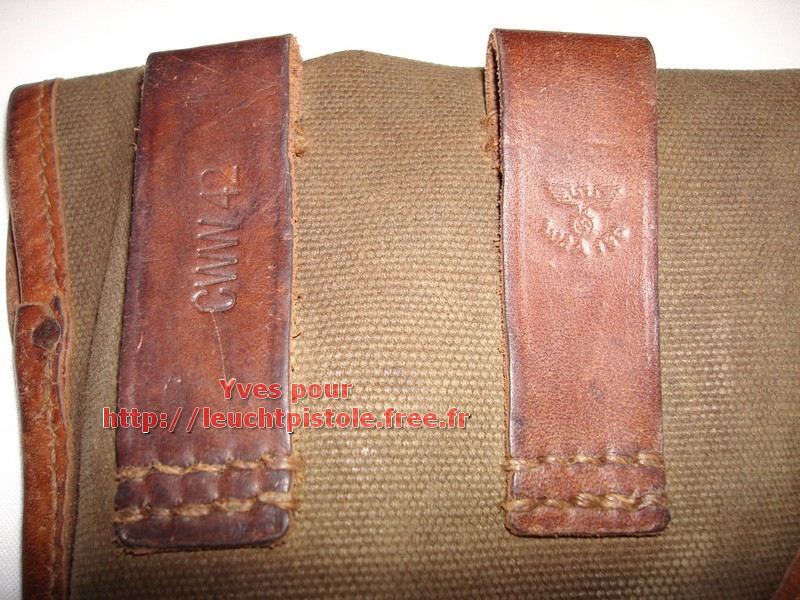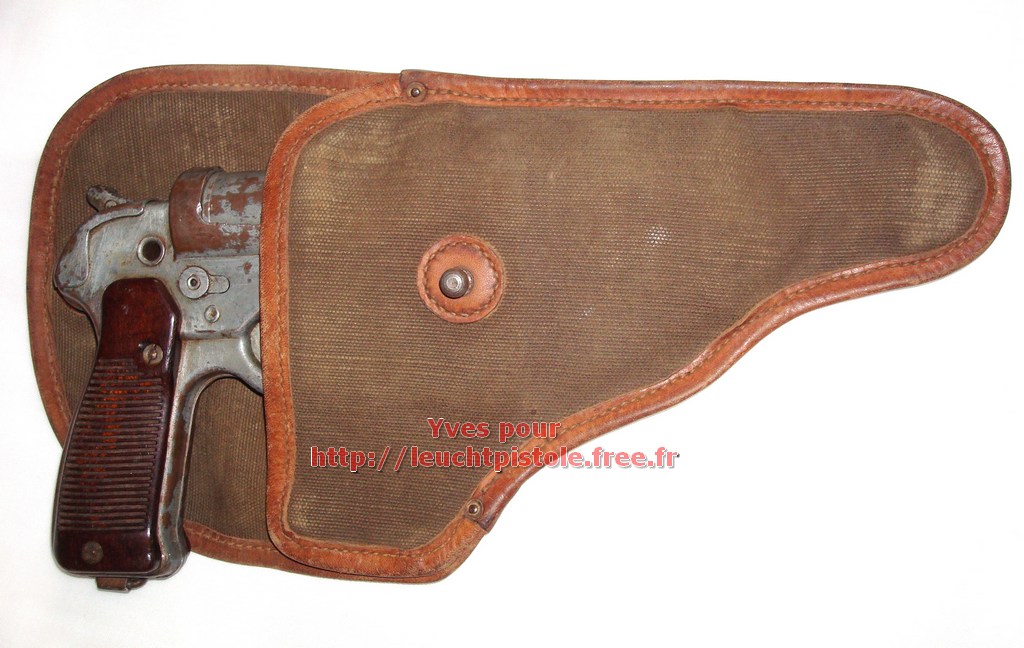 Back