Curious objects and unusual informations
Within the realm of flare guns; this section aims to provide a complementary point of view and type of information on this kind of artifice.
Whether objects are classical or some information is unknown or objects (or their use) are unusual, this page is made to cover this area!
Don't hesitate to contact us to add some unknown object / information!!
2. Remotly controled flare guns systems in plane.
3. Trap system: Alarmleuchtzeichen.
4. Signalbombe transport case.
6. Field made / end of war flare guns (or "Behelfsleuchtpistolen").

7. German flare guns reused by foreign armies after WWII (French army for instance).
But... where were flare guns hidden in a Luftwaffe plane ?
By removing the ground crew and pilots of single-seater aircraft, flare guns (single or with a few cartridges in his box) were carried in the aircraft (bomber, reconnaissance aircraft / rescue).
Storage was planned and is described in various manuals board.
Here are some examples to illustrate their location.

In the case of Do 217, the Leuchtpistole (flare gun) (contained in the survival box (Notsignalbehälter)) was placed in the storage space for the survival of the boat (on the back of the fuselage.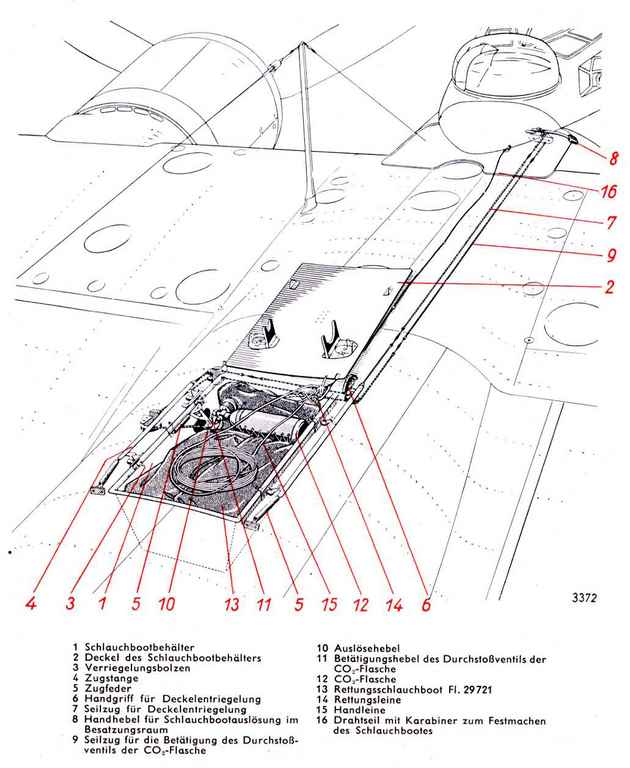 Flare gun and its ammunitions on the right side of the He 111 fuselage.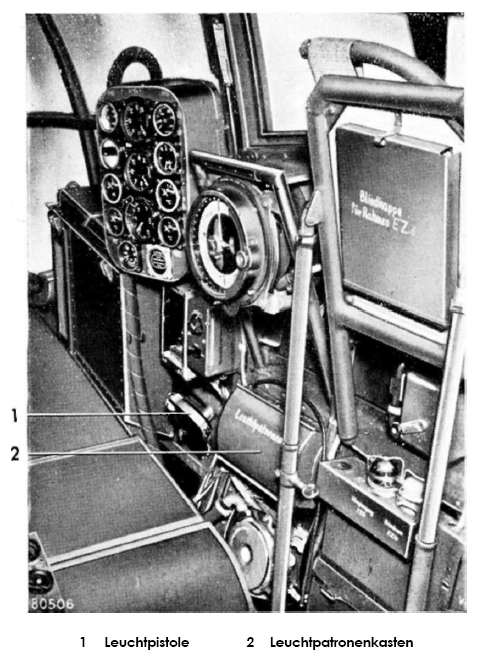 Where a double barrel Luftwaffe flare gun was installed in a Ju 52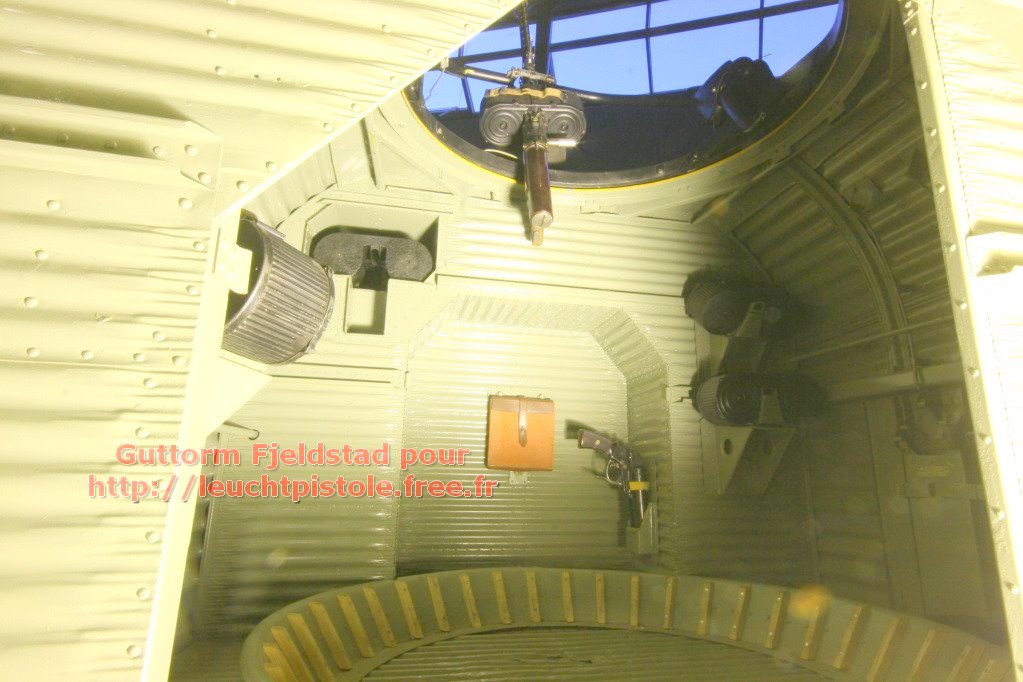 For some aircraft, the need for a system to launch cartridges to emit a signal (large communication distance) or to provide additional lighting (illumination) and can be operated remotely has led to following types of objects.
Developed for certain aircraft such as the Me 262 and the Ta 152, they looked like this (click on images to view in original size):
Pictures of the system on a Me 262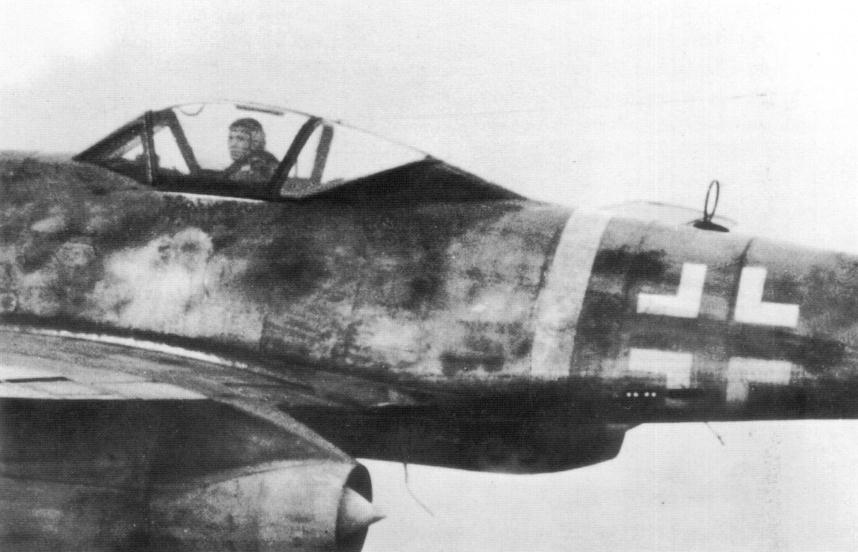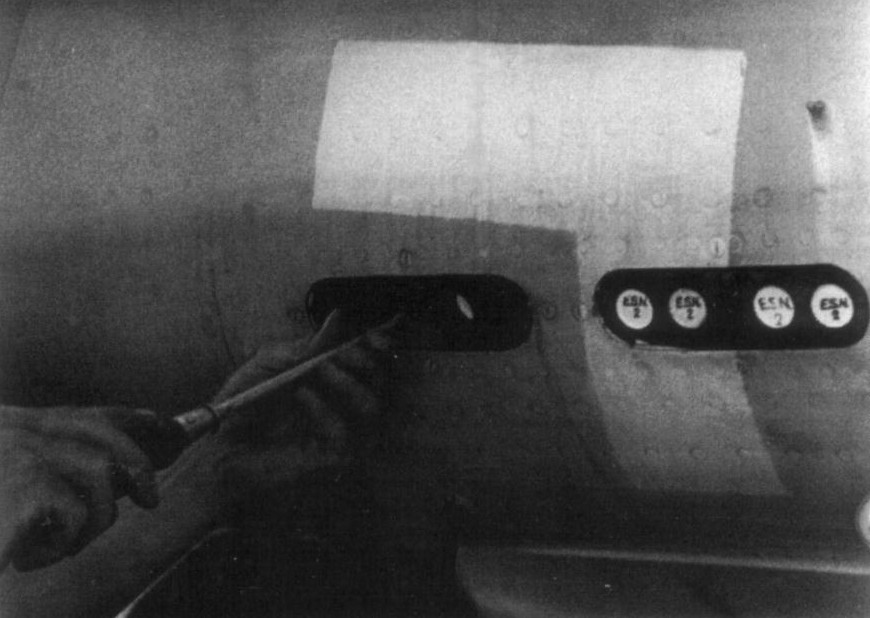 Some of these informations has been found on the web site http://www.germanluftwaffe.com
Alarm system: Alarmleuchtzeichen:

This alarm system was designed to detect intrusion. The trap system is triggered by pulling a single string.
Here is a sample of this item with its original packing box manufacturer 'bkwz', dated 1943 and refurbished in 1944.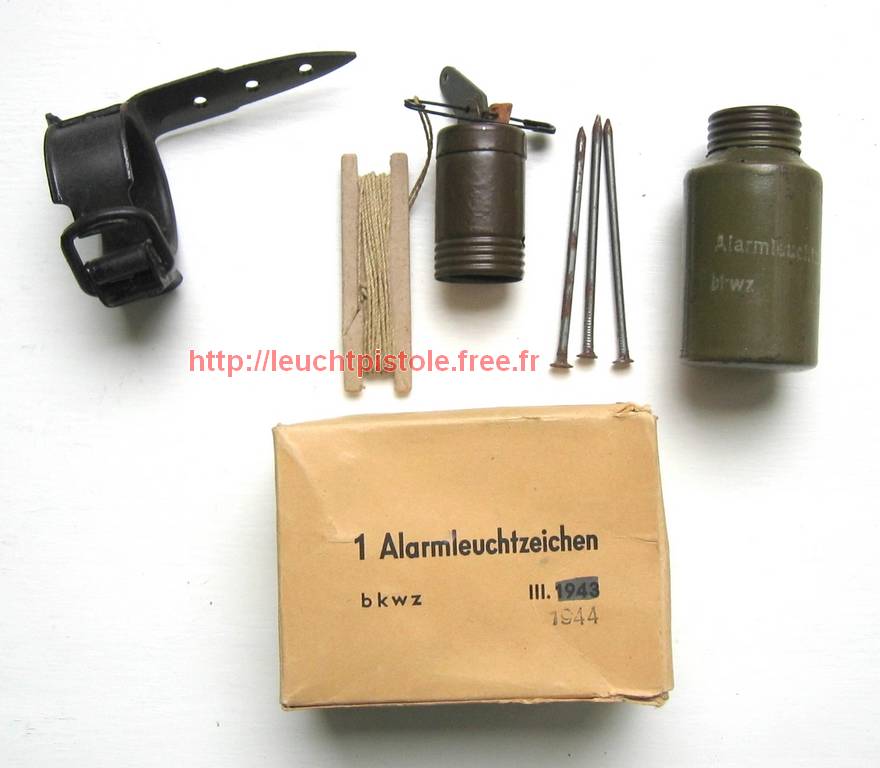 It was contained in a 10 units set in which a wire was provided and used for body trap.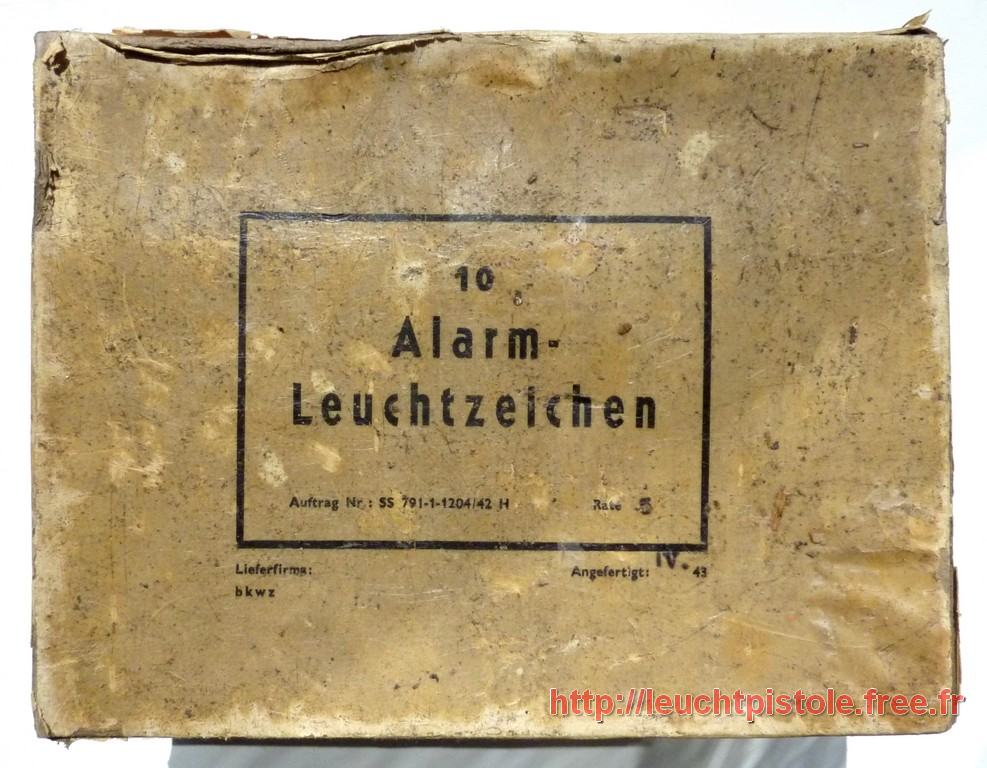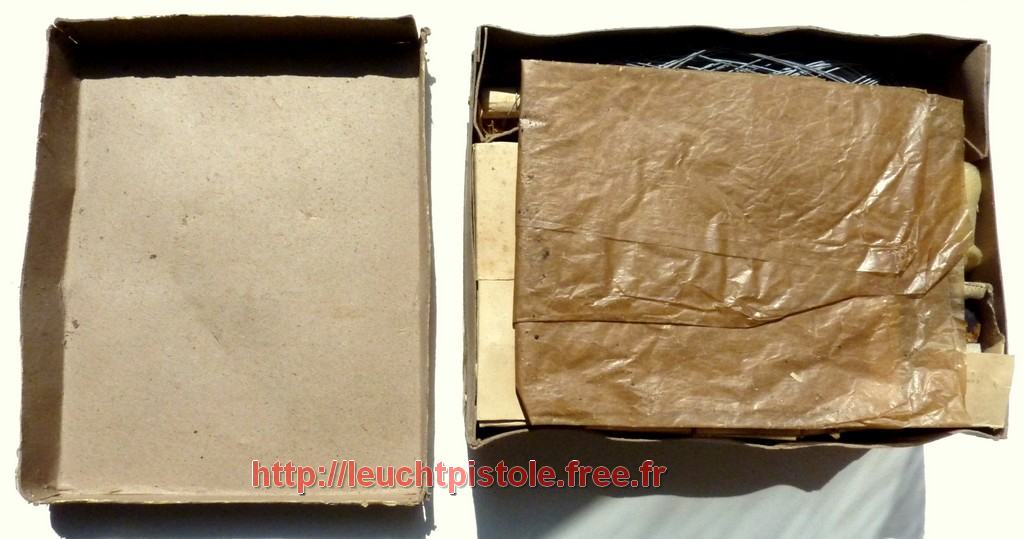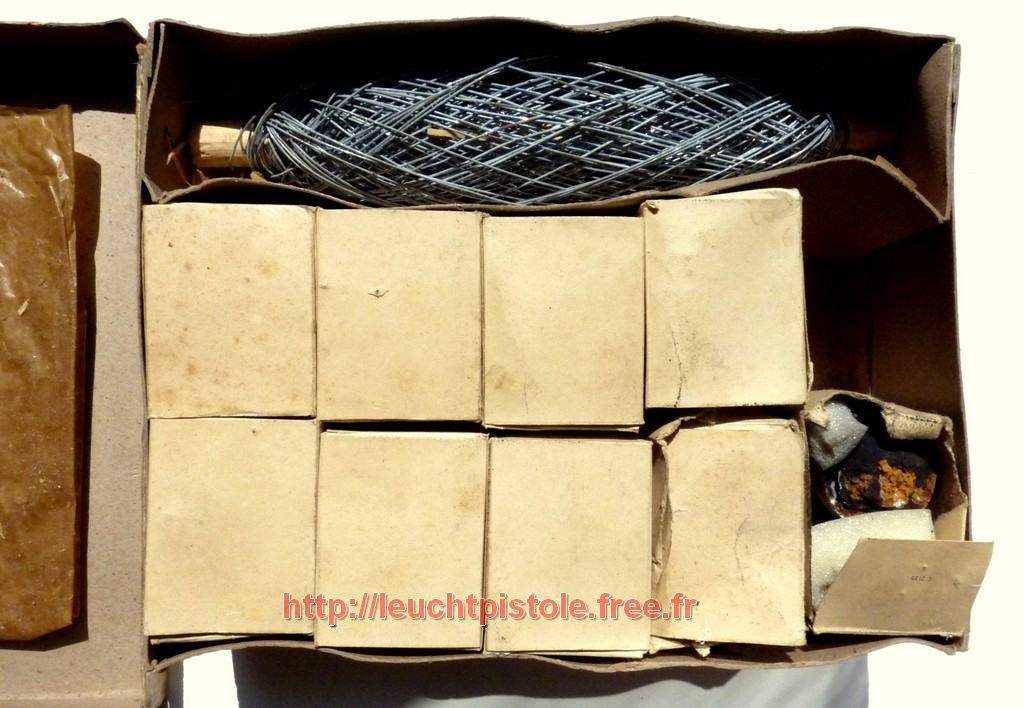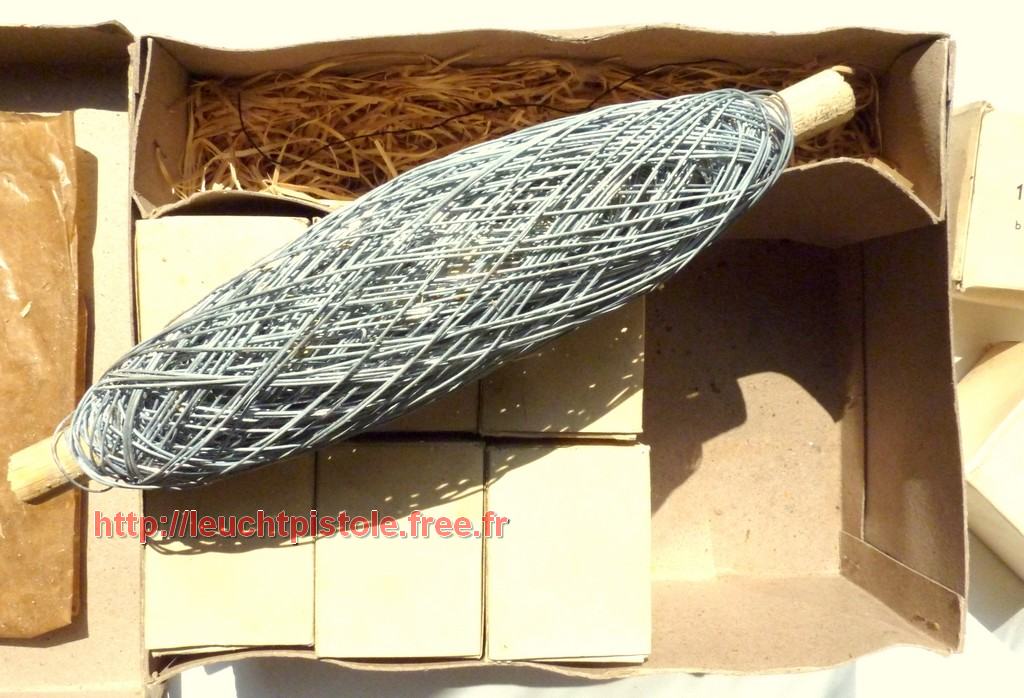 More information can be found on the excellent web site: lexpev web site
This kind of 'bomb' are more detailled on Signalbombe on Lexpev web site
It's more an way to present a transport-case of this kind of flare called Signalbombe mit Blitz (using here an electric ignition)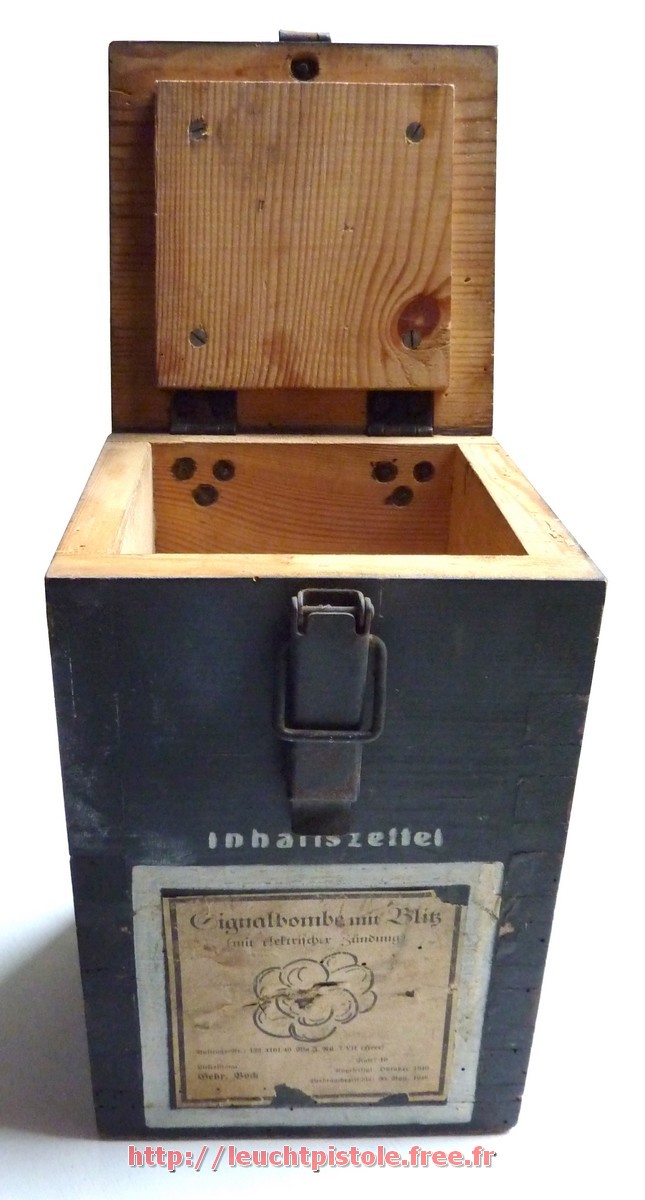 Smoke signal or RauchSichtzeichen Orange:

This item was available in three smoke formats (80, 160 and 350) and was designed to quickly provide a 'cloud' of orange smoke.
Further informations can be found here
They were notably used by Luftwaffe and found their place in the pilot life vest or in a pocket of their suit.
The 80 model:
The 160 model:
The 350 model:
The whole familly:
Sample of an original box containing 10 RauchSichtzeichen 80 (thanks very to its owner):
End of war or 'home made' German flare guns:

Like a lot of other items, some of them are called 'end of war', 'Volksturm', 'field made' aso. The right name in German is "Behelfsleuchtpistolen". The same receipe does exist for flare guns. Some of them were made with rest of spare parts or made with what can be found on the field. I don't think it would be very easy to get an exact list of all the different types but we can try to show the ones which has been found, just for .. curiosity.

Type with a wooden stock: (this one as a Komandantur Lille LP look (made during WWI)

Type with a steel stock: (it seems that the barrel is coming from a LP42)
Another type of a this kind of flare gun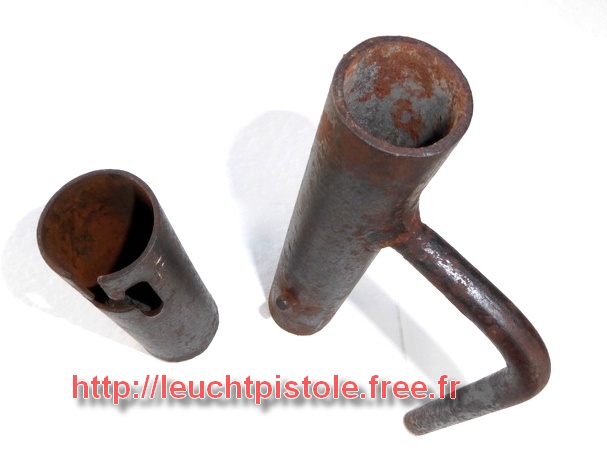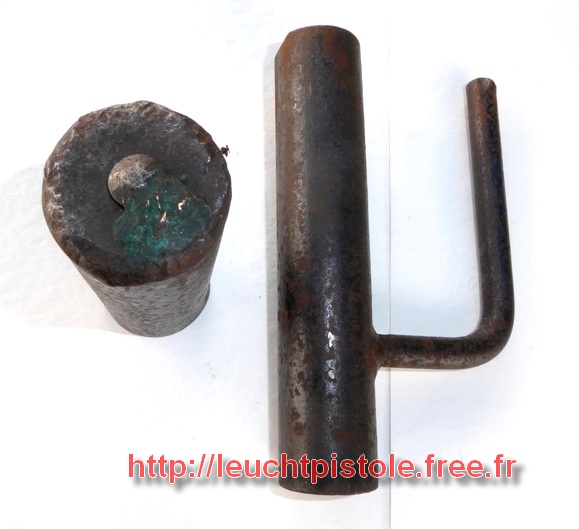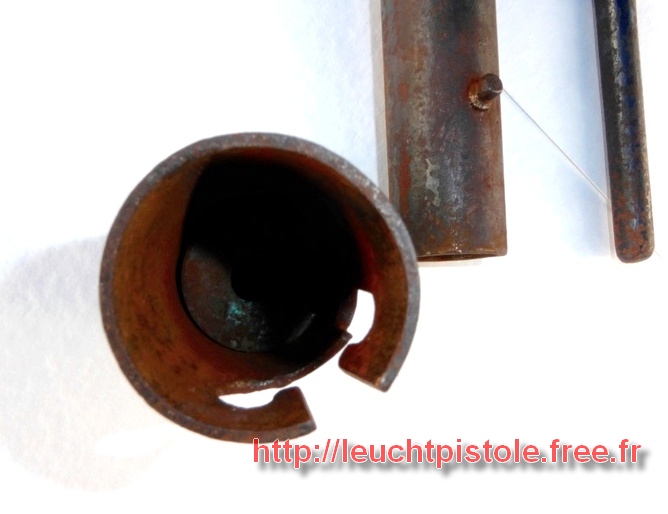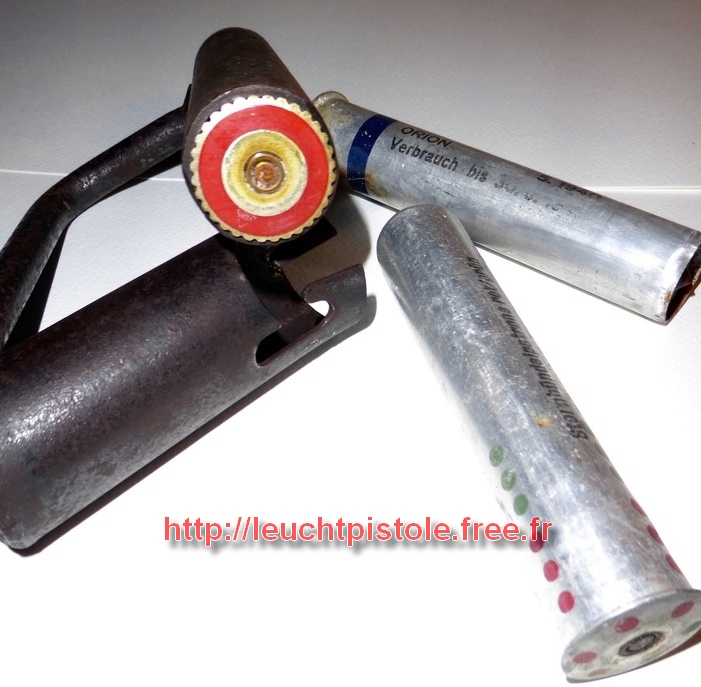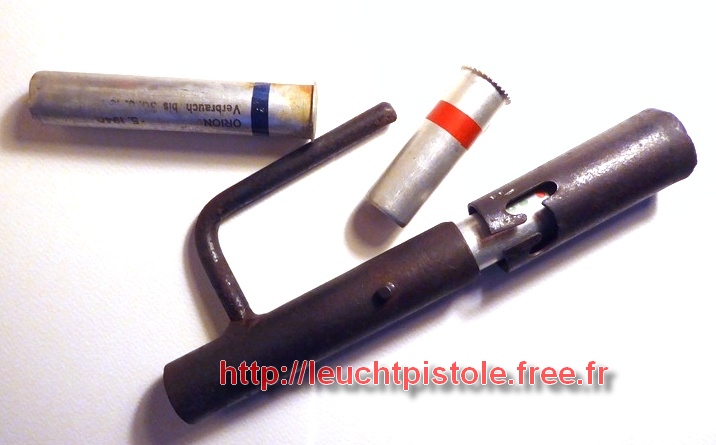 German flare guns reused after WWII by foreign armies (French army for instance):
After WWII, a lot a flare guns batches have been reused by several foreign armies. Some of the ex USSR countries used them. Some batches have been sold to Israel (cf. LP42 with black finish and special markings). An other example is the ones still in the gunroom of the French army (Navy for instance and other parts).
Notice that the original markings (WaAmt, manufacturer) are still present and most of the different pieces have new surface treatment (such as new painting or parkerization).